What is NARUTO SCISSORS?
We have been making hairdressing scissors by hand since 1963.
Naruto scissors are produced one by one using highly skilled craftsmanship.
Our craftsmen have an inherited expertise of more than 50 years. "Sharpening and Minute adjustments by our craftsmen" and "Our own structure of scissors" reflect on each pair of scissors. This creates the feature of Naruto scissors "Sharpness and a good cutting feeling that lasts longer".

Mechanism and Structure
Naruto scissors last longer
The important part which opens and closes scissors is called the contacting point (ride).
Naruto scissors uses our original contacting pivot point called "Three-dimensional circular ride".
Due to the special resin packing in the center of the Threedimensional circular ride, there is less friction between the packing and the blades. This reduces stress on your hand and the packing will not wear down the blades. So, Naruto scissors can be used for a long time.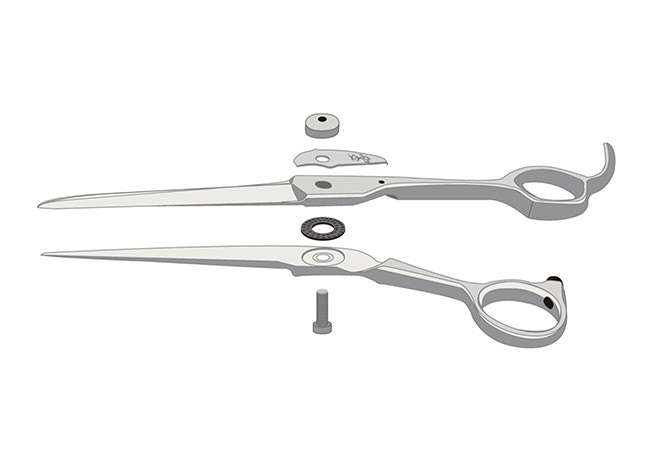 ST type

DB type

NB type

SB type
There are 4 types of handles.

- Hennessy Handle -
Hennessy type is our original handle. It has the effect of reducing the fatigue on the wrist and elbow when cutting.

- Eyeglass Handle
(left-right asymmetric)

-

This eyeglass type is slightly asymmetric. It's easy to use even for people who are familiar with offset handles.

- Eyeglass Handle
(symmetrical)

-

Symmetrical eyeglass type.

- Straight Handle -
It's standard offset type.
The difference between Offset Handle and Hennessy Handle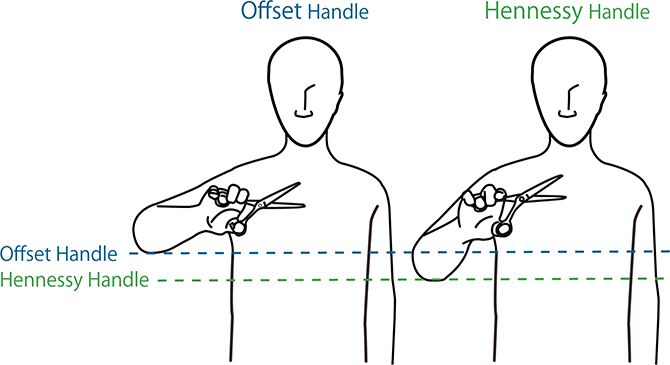 The shape of scissors
- Clam blade -
With this shape, you can realize more smooth and soft feeling of cutting which is characteristic feature of Naruto scissors.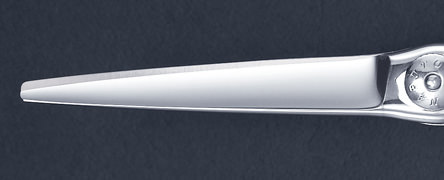 It cuts softly with a sharp blade angle.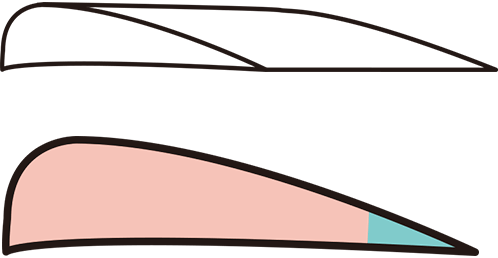 - Sword shape blade -
Since the blade is rather thick, it is suitable for cutting hard bristles or cutting thick panels.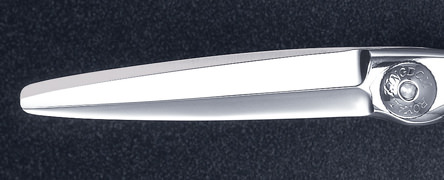 It cuts strongly with the thickness of the blade.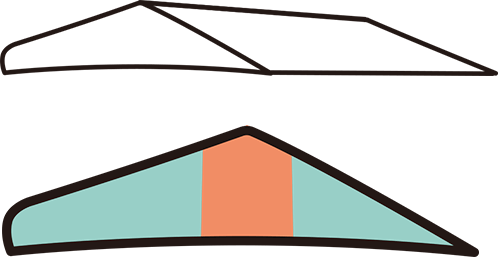 The features and characteristics
of thinning scissors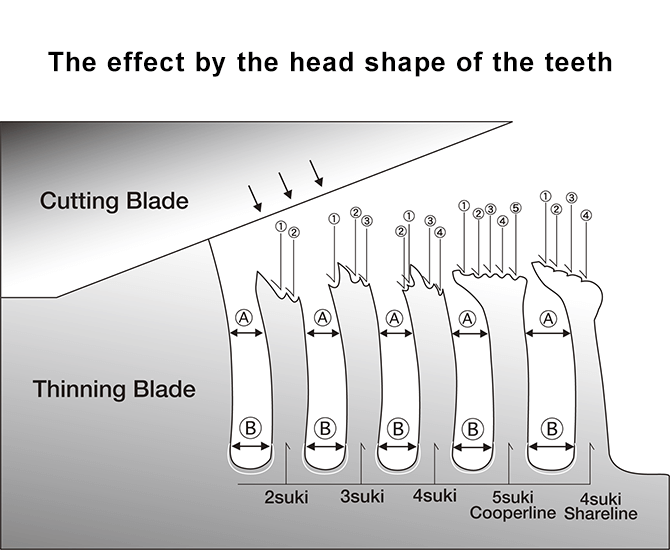 The tips of teeth are the shape that doesn't leave a line where it was cut

The hair goes in (1)~(5) ridges in order, so our thinning scissors can create natural finish.

The hair goes smoothly through the scissors without getting caught

Because B intervals are wider than A intervals.

The design of the thinning scissors makes it difficult to damage the hair

The sides of the teeth are planed off making the edges rounded. This is also the reason the hair can go through the scissors and not get damaged.
- 2Suki -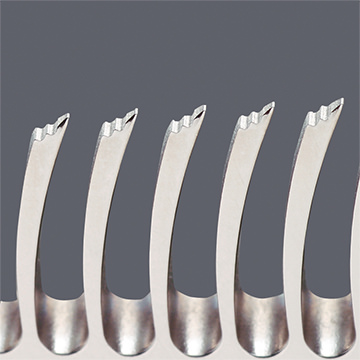 - 3Suki -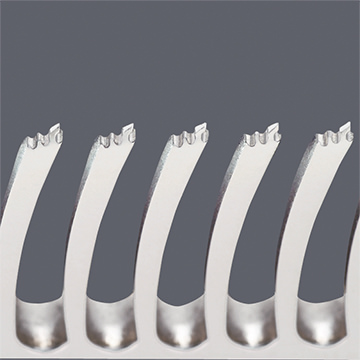 - 4Suki -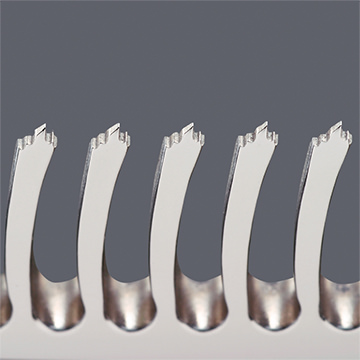 Kinds of Thinning Scissors
There are two blade types of scissors, type S/regular type and type B/reverse type. The reverse type, type B, can give you a very smooth cutting of the hair, allowing the hair to fall naturally when trimming using scissors over the comb technique (Kariage).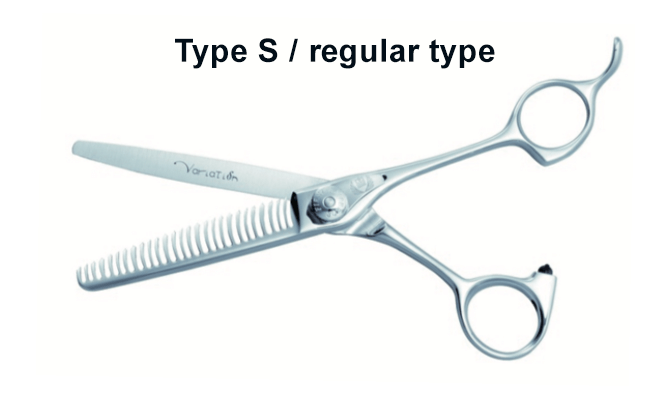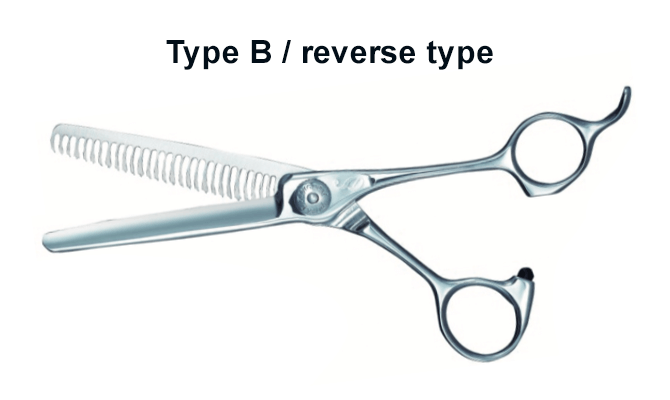 Care of New, Repaired and
maintenance scissors.
Care of New Scissors and Scissors after Repair and Maintenance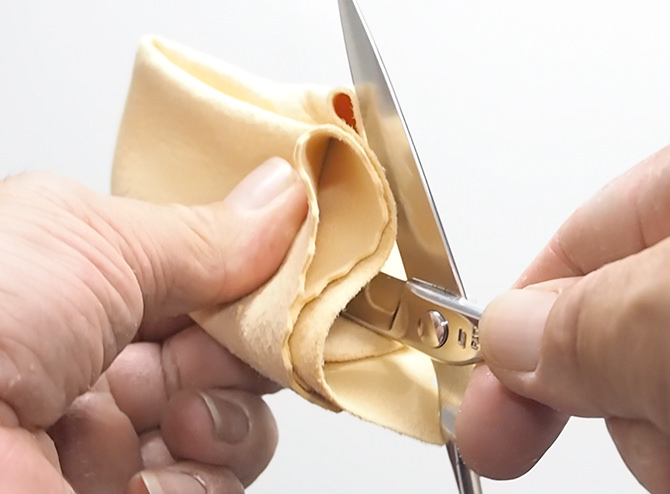 When you first use your scissors, metallic dust will come out. The metallic dust causes many problems to the blades.
We ask that the customer pre- condition scissors in the beginning and after repair and maintenance.
At that time, avoid cutting thick hair, start with a blunt cut for at least the first 5 to 10 cuts. Please make sure the hair is either wet or soft if it is dry. While cutting or after each use, please wipe the blades to remove the metallic dust with the chamois leather. Continue to pre-condition your scissors with about 10 to 20 more cuts. After this, your scissors are ready for slide cut, stroke cut, chop cut etc.
Repair and Maintenance
Please send your Naruto scissors to our factory. Please do not repair and maintenance your scissors with another company or local sharpener other than NARUTO SCISSORS. This will lose Naruto scissors' characteristic and we can't guarantee the quality. We recommend once every one to three years maintenance. We basically ask you to send scissors for repair and maintenance through our distributer. However, if there are no distributors in your area, you can send your scissors directly to NARUTO SCISSORS' factory.
Things to prepare for repair and maintenance.
Scissors for repair and maintenance

Memo written about condition of the scissors

Repairing coupon
(Warranty)
After repair and maintenance, depending on the scissors' conditions(chips, sharpen by other company, blunt blade etc.), the thickness and width will change.
Please check the scissors after receiving them from our factory, regardless if you use the scissors or not.
Period for repair and maintenance
We will ship the repaired and maintenanced scissors about 2 weeks after receiving scissors at Takarazuka factory.
*The period for repair and maintenance depends on the time of year and the condition of scissors.
Repairing coupon
We provide repairing coupon which can be used to repair your scissors 3 times.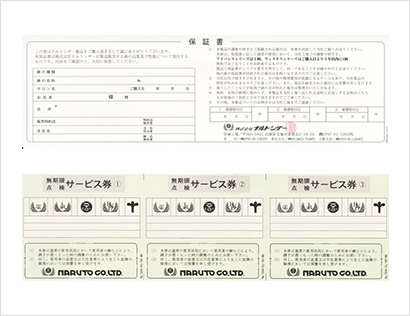 How to send your scissors for repair and maintenance
1. In case of sending scissors via our distributor
Contact the distributor / Send the requiring details to our distributor
Repair and maintenance at our Takarazuka factory.
Ship the scissors back to the distributor / Payment and Receivership.
2. In case of sending scissors directly to our Takarazuka factory.
Send directly to Takarazuka factory
Repair and Maintenance at Takarazuka factory
Confirm the payment /ship the scissors back to the customer
Contact Info: NARUTO SCISSORS Takarazuka Factory 2-19-23, Akura-kita,Takarazuka,Hyogo,665-0821 Japan
Tel: 0797-81-1262
*Please fill in "scissors for repair" in the space for detailed description of contents.
*Please fill in "USD$50 or JPY¥5,000" in the space for total value. Please do not enter the true purchased amount.
*All the postage for sending and receiving the scissors for repair and maintenance should be paid by customers.
*Return of scissors will be done via EMS post only.
Registration System for our Customer;
NARUTO SCISSORS have been applying the serial number system for every single pair of scissors made by us since we started the scissors' company. We registered the name of the purchaser, the model and the date the scissors were purchased, into our log book. This information management system is quite helpful and useful for repairing our scissors, even minor adjustments and for antitheft (burglar-proof). Customer's registration records will not be open to any third party without the customers' agreement according to the legality on a proper law. However, if a provided company which holds the duty to protect privileged information, in cooperation with us or consignment production in producing scissors, we may open those necessary information upon us under the controlling of management.
Please contact us for the purchase or
other inquiries from here.